Spain. It's been on my list of countries to visit for a long time. So when Zach had to go there on business back in May of this year (sorry I'm SO late in posting this), the opportunity to tag along was just too great to pass up.
Since we took a red-eye flight, we didn't leave San Francisco until Tuesday afternoon. And since we are nine hours behind Spain, we didn't arrive in Valencia until Wednesday evening (with a quick connecting flight in Zurich, Switzerland along the way). So we lost a day. When we finally landed in Valencia around 9pm, we were exhausted, so we quickly got the rental car, checked into our hotel, and went to bed.
THURSDAY, MAY 30
The next morning we had a delicious breakfast at the hotel that included fresh fruit, meats and cheeses, homemade breads, and yogurt, amongst other things.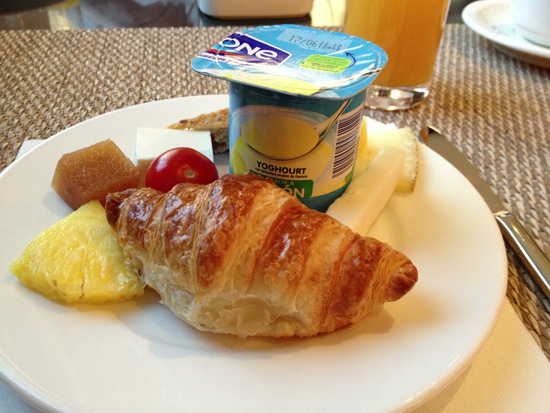 Then we headed north to Girona for a night, stopping at the Dali museum in Figueras along the way.
Zach is a huge Dali fan, but I'm not sure what I think about him. He clearly was extremely creative, and he had mad skills, but I think he may have also been mad. Like certifiably crazy. Or maybe just eccentric. I'm all for eccentric, but his work doesn't speak to me the way other artists' work does. Even so, it was a great experience, and I definitely recommend it. There was a great collection of amazing work there – by him, and other artists as well. It's definitely worth a visit.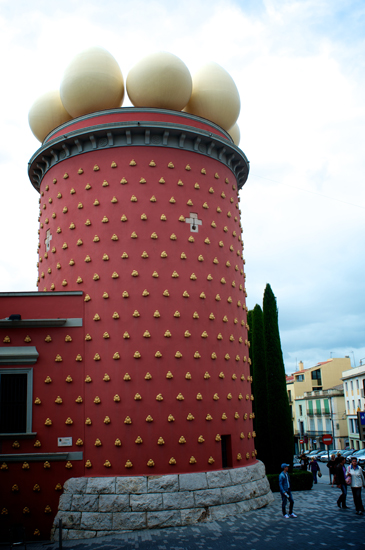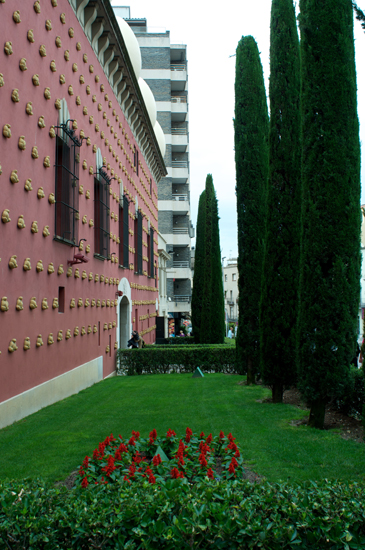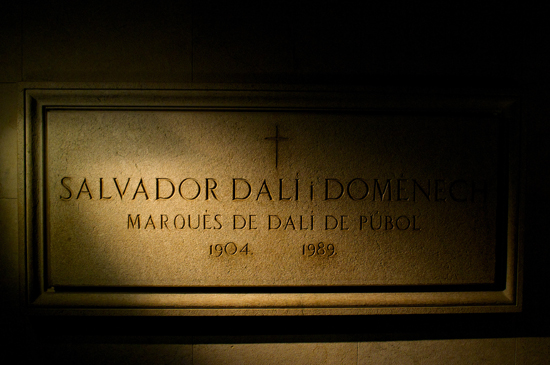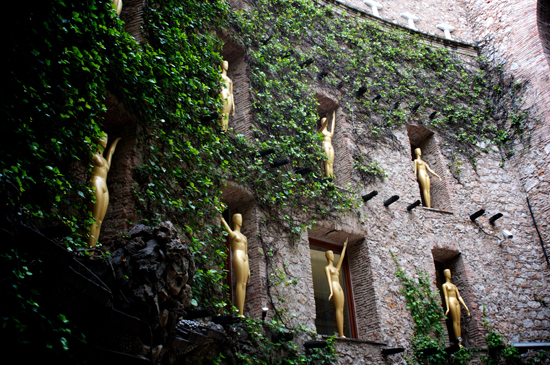 This is an installation done by an artist in response to a painting by Dali. There's a stairway at one end of the room. You can walk up the stairs and at the top you look through a large magnifying glass at the installation below. What you see (on the left) looks like Dali's painting (on the right). It was a pretty clever effect.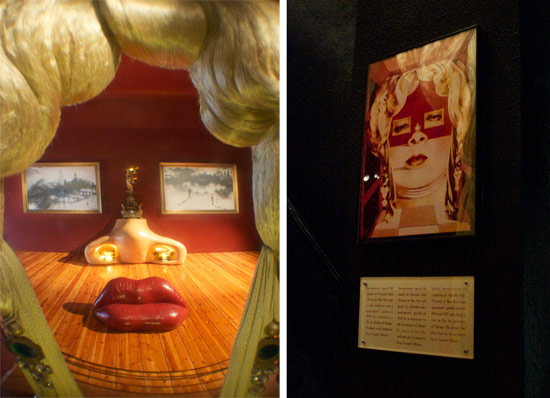 After the museum, we wandered around the quaint little town and eventually found some yummy tapas ("Tape Ass." "Yeah, that's not how you say it." "Yes it is." A gold star for you if you get the reference. I'll give you a hint, it's a British TV show.).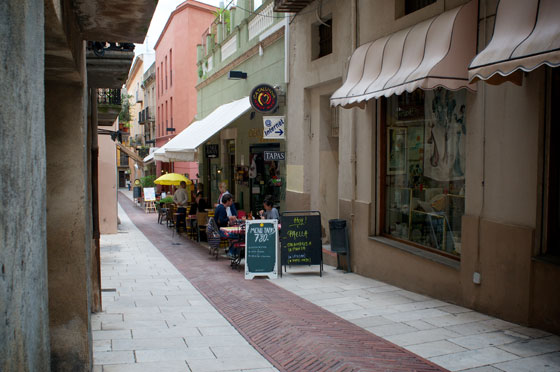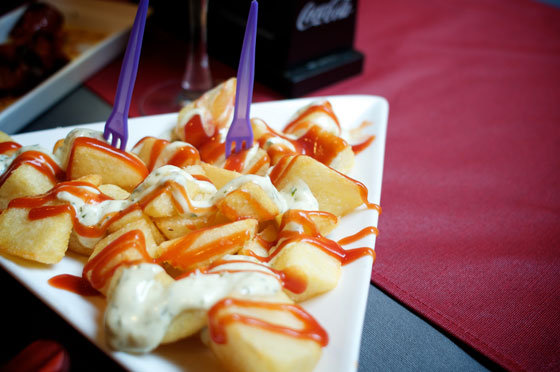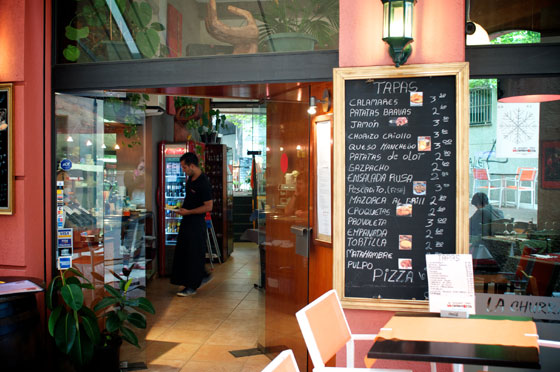 After lunch (It was delicious!), we located a Vodafone (local cell phone company) so we could get wifi. At this point we learned the Spanish pronounce it "wee fee" (Now we know!). The girl there didn't speak English, so I used my iPhone (yay Google translate) and limited ability to speak Spanish (no excuse after 6 years of Spanish in school) to communicate with her. I think I could be sort of fluent in a couple months, but I need to work on my vocabulary (recognize all the words but can't always remember what they mean). It was so much fun to try to speak Spanish. The locals are SO friendly. This Vodafone store didn't have what we wanted, so she directed us to another in the town, which included an employee who spoke English. He was so nice to us. Unfortunately, they didn't have what we wanted either, but we found something that worked well enough for our needs. We purchased it, for much less than it would have cost in the States (stupid over-priced American technology), and were on our way.
The Girona hotel where we stayed was hip and modern.
It had a beautiful outdoor veranda with a great view of the city.
Unfortunately most of the photos we have of the outdoor space are on Zach's camera. I'll have to dig those up sometime and add them here later. You can kind of see the veranda through the windows in this shot: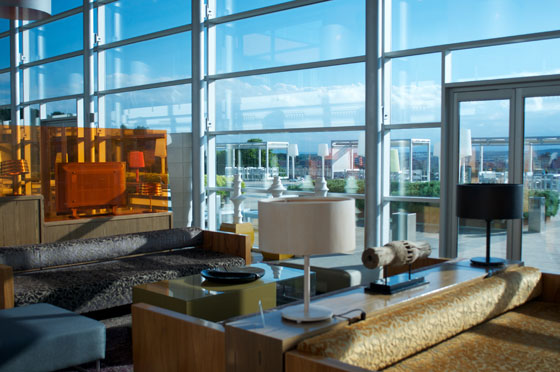 And get this… Marriott upgraded us to a suite. For free. (One of the perks of being a Marriott Rewards Platinum member.) Plus we were able to "pay" for most of our hotel stays with points.
Here's a shot of our swanky hotel room. That huge photo on the other side of the bed is actually printed on glass. It's a wall and the bathroom is on the other side of it. When you turn on the bathroom light, it illuminates the photo. Super cool.
It was all very posh and a tad surreal. Apropos, I guess, since we were in the land of Dali.