We left Jerry and Sarah's house early Monday morning and continued west to Illinois. First on the day's list was a visit to Frank Lloyd Wright's Robie House in Hyde Park, a neighborhood in Chicago, IL.
We got there a bit early, so we checked in at the front desk and then went for a quick walk around the block while we waited for our two o'clock tour. I absolutely loved the wrought iron gates that lead you into the court yard (The doors in the background lead to the gift shop where you check in.).
It was a gorgeous sunny day. Perfect for a little walk…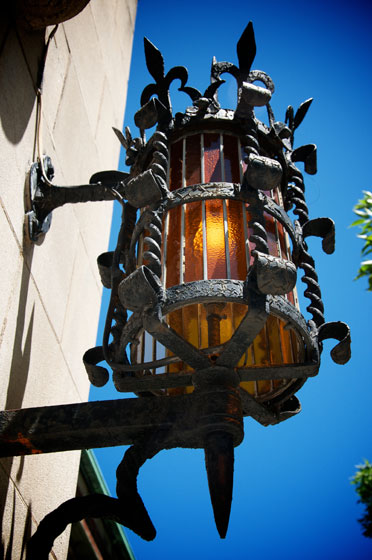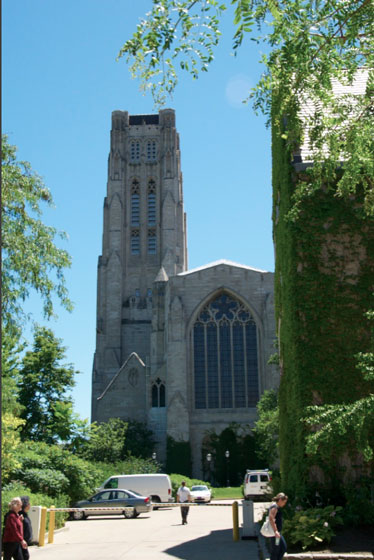 Well, what do you know? It's time for our tour…
House Name: ROBIE HOUSE
Designed For: FREDERICK & LORA ROBIE
Built: 1908 TO 1910
Location: HYDE PARK, CHICAGO, ILLINOIS
We all gathered in the court yard where Bob, our tour guide, gave us some history of the home.
Look at this amazing leaded glass window: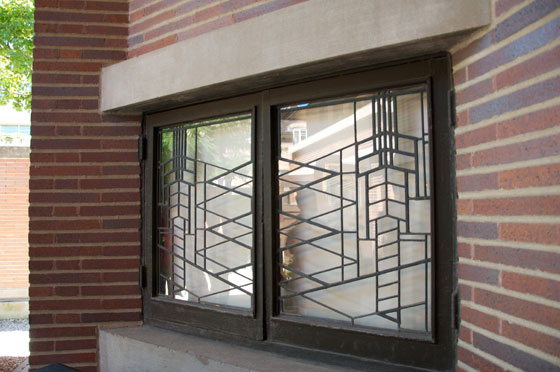 Before we entered the home, Bob walked us across the street to view the property from afar.
And to compare it to the other buildings nearby. Some being much more modern.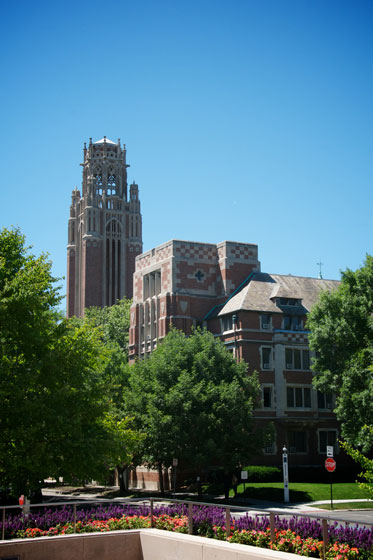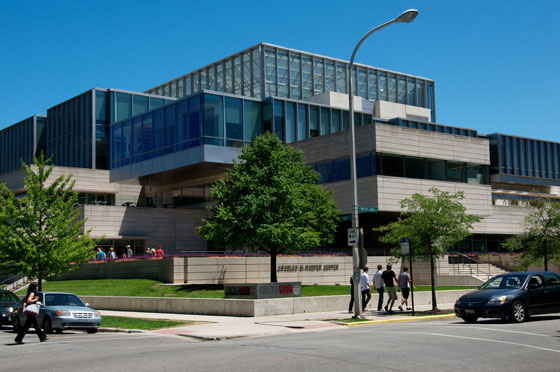 Then it was back to Robie House and into the basement level. Although the first phase of a major refurbishment was just completed on the property (I believe just the exterior was addressed in this phase.), there's still LOTS to do to bring it back to its former glory, so I didn't take any pictures of the crumbling, dingy basement where we watched a twenty minute video.
Finally we got to see the main floor (the third floor isn't open to the public right now), which consisted of mainly a living room and dining area with this amazing fireplace in the center of the room.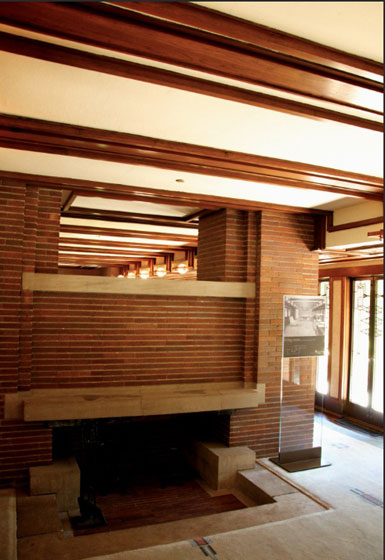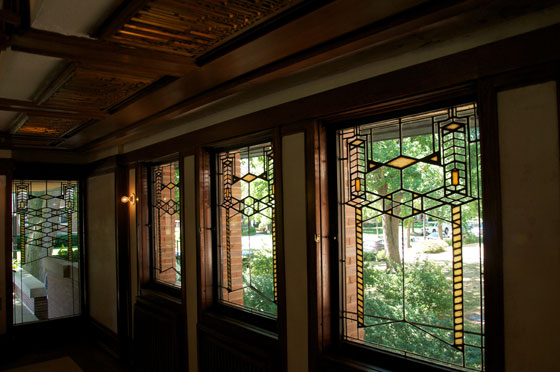 I was especially intrigued by the wooden moulding and the lighting.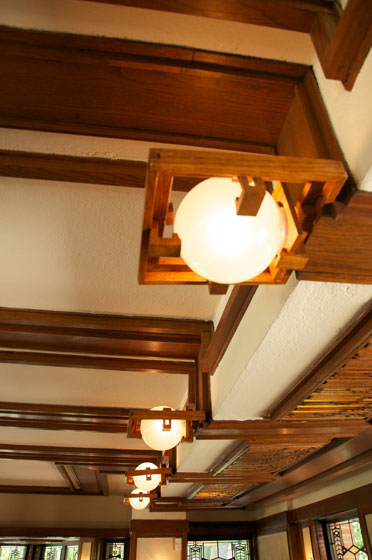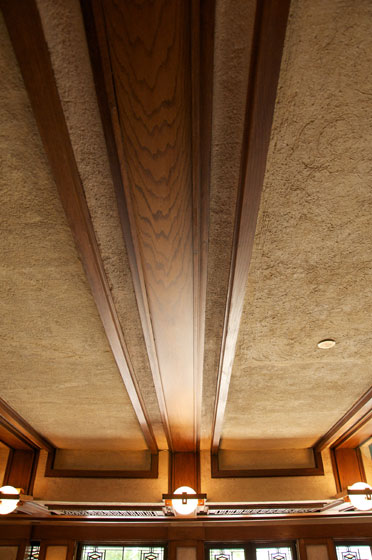 This part of the tour is a little hazy. I can't remember if we went downstairs to get to this bedroom (is it a bedroom?) or if it was on the same floor as the living/dining room.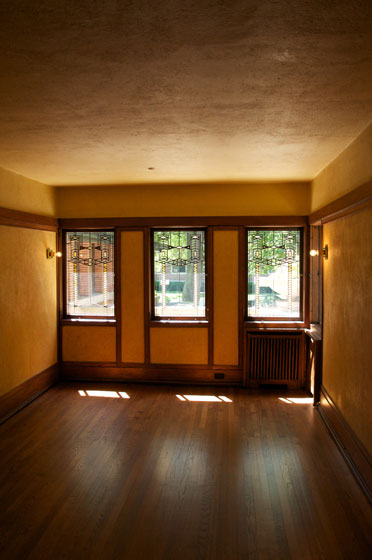 From there we went to the kitchen, which definitely needed lots of work to bring it back to its former glory, but you could tell from this nice bank of cabinets it had potential.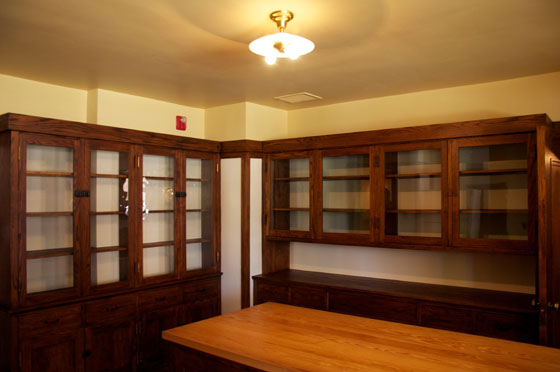 Then it was back to the court yard where we started. I love this awesomely-ahead-of-its-time skylight in the overhang of the roof. So cool.
After Bob completely his part of the tour, he encouraged us to check out the small patio off the main living area.
Here's the view from the patio: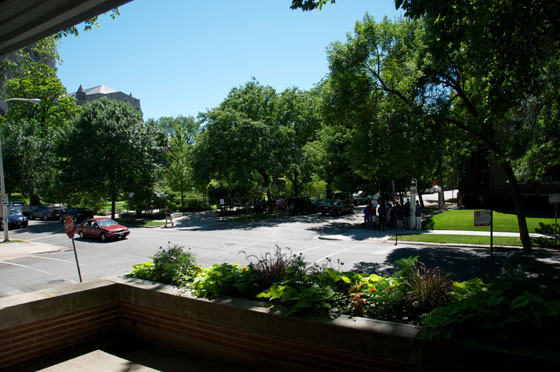 Although Robie House definitely wasn't one of our favorites (I think the tour will be much better once they finish the refurbishment.), it's a really important structure that affords us a view into the early mind of Frank Lloyd Wright (He was only 28 when he designed it.). Definitely worth a visit.