We said goodbye to our first home today. It was so strange to see it empty after living there for over six years.
But now it's time to move on. To California to be specific. But first a two week road trip…
House Name: KENTUCK KNOB
Designed For: BERNARDINE & I.N. HAGAN
Built: 1953
Location: DUNBAR, PENNSYLVANIA
Our trip began in Dunbar, PA with a tour of Kentuck Knob house designed by Frank Lloyd Wright.
The house was built in the traditional Usonian style and reminded me a lot of the Zimmerman house, also Usonian, in Manchester, NH. Kentuck Knob was a beautifully tranquil space, and Zach and I thoroughly enjoyed our visit.
We arrived around 12:30, which gave us just enough time to grab a quick bite to eat in their lovely little greenhouse cafe.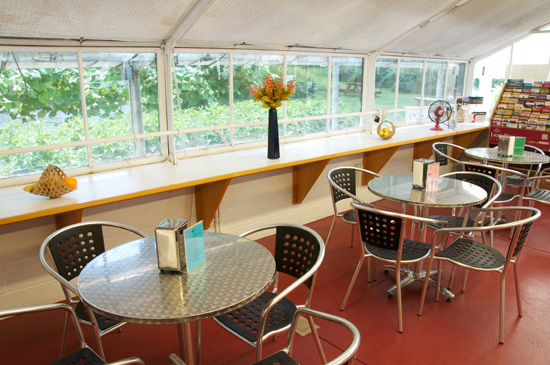 Then we took a short bus ride up to the house where Diana, our tour guide, gave us an informative tour of the house…
…and then encouraged us to walk the short path over to the scenic outlook.
We weren't allowed to take any interior shots, so I only have exterior photos. One of the most interesting parts of the tour was the uniquely-designed "sun dial" created by the windows in the overhang of the veranda.
The shapes cast by the sun, move across the floor as the sun rises and sets. During this time of year, they run right down the center of the floor at noon, but during other times of the year they are near the doors off the living room or by the perimeter wall. Such a cool concept!
After the tour, we took the path to the "Sculpture Meadow" filled with, you guessed it, sculptures. They even had a couple Andy Goldworthy installations including this "Floodstones Cairn."
And this interesting sea of red people.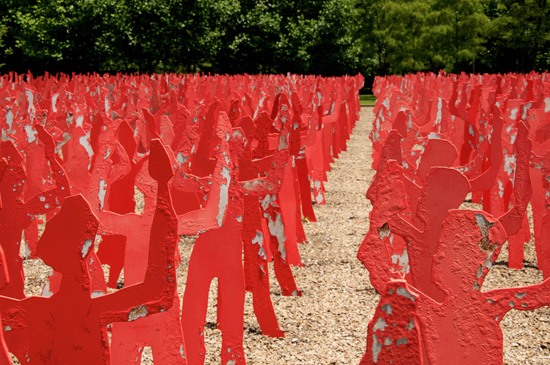 And this weird cast iron piece from France. Zach and I think it may have been a shower or an outhouse.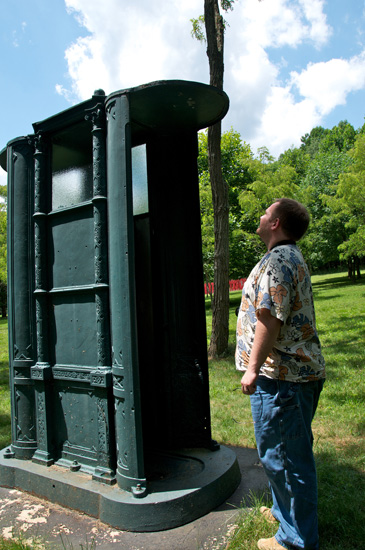 There was even an apple core designed by American artist, Claes Oldenburg.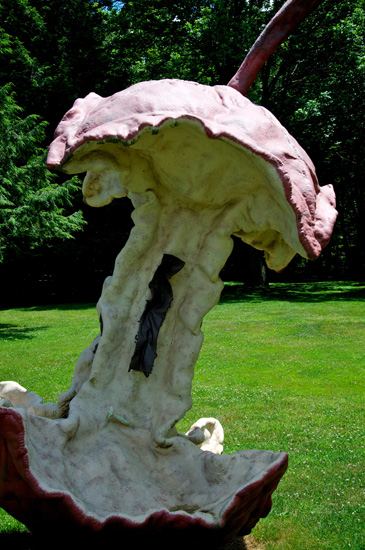 And a piece of the Berlin wall.
Eventually we ended up back where we started, at the greenhouse cafe and shop.
I think this is one of my favorite Wright houses to date. We've got several other house visits planned during this trip, so we'll see how they all stack up.